Quarrels, scandals, annulled marriages, Meri makes the forecast for August: These are signs of caution with debates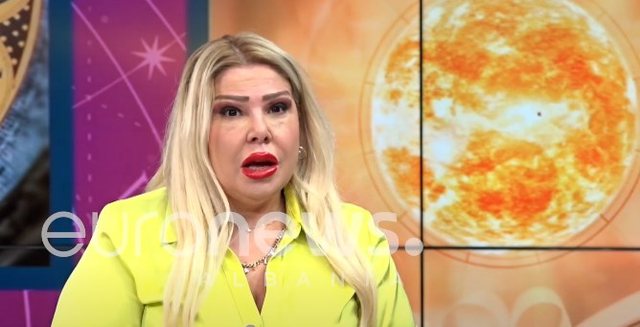 Invited to "Goodmorning Albanians", Meri Shehu has made the monthly forecast for the month of August. Astrology said that this month there will be tensions and quarrels, highlighting some signs that will be more affected.
Virgos, Gemini, Sagittarius and Pisces will receive greater communication tension or very large criticisms. They will be at the center of the attacks. They should be very careful," said Meri.
Aries – They are one of the most complicated signs to resolve their erotic relationships in August. They will be excessive in behavior, they may have flashbacks from the past and problems, but they will also have a lot of tension. Aries should be careful in a work arrangement around August 7, 8, 10. There are attempts at job talks, but there is a snag that they need to watch out for. Aries who have chronic diseases should watch it carefully.
Taurus - It will be the main one this month. Taurus will have the feeling to do whatever they want. They will do what they can. They will feel tension in love, in the economy, but also in the way they react to others. Their life can be thrown into a difficult imbalance during August.
Gemini - They will receive great criticism, both from the family and from a powerful superior who may give them more work than they need. They have to manage the situation well. They are put to a powerful test in the family-career diagonal. In erotic relationships, you should not stay hostage to the past.
Cancer - They will deal with the economy this month, give and take, loans, losses, so all Cancers will deal with the economy. But there will be a lot of tension. There will be infidelity in friendship as there will be conflicts. So this month Cancers will have economic problems and with their friendships. The middle of August is not good, but after the 16th with the new moon they are freed.
Leo - It is one of the most exposed signs of the month as we have the sun in Leo. This is their month, they want to establish order, discipline, orders, but their life is complicated. They will have problems with career, with work, with fame, with things that they did not do properly. A marriage is annulled, a new relationship becomes complicated, an ex from the past returns, or an economic problem from the past returns. After the 16th, the new moon will give new beginnings. On the 6th, 7th, and 8th, there is work behind the scenes.
Virgjëresha – Mërkuri futet në shenjën e tyre dhe ditët e para të gushtit do jenë në lëvizje, do ecin, punë, kontakte, biseda, projekte, do ndihen më të lehtësuar. Nga data 6,7,8,9 do fillojnë të ndjejnë pengesë në marrëdhënie në çift, pengesë me eprorët, pengesë në punë, në komunikim dhe kritika që vijnë në drejtim të tyre. Kështu që do tu mblidhen të gjitha dhe s'do dinë si të veprojnë, pas datës 16 do çlirohen dhe do ndihen më mirë.
Peshorja – Gushti do i bëjë Peshoret të tregojnë forcën dhe potencën e tyre. Duhet ta shfrytëzojnë fillimin e gushtit. Pastaj do merren me ekonominë, bilancet. Sidomos ekonomia vështirësohet pas datës 6, do fillojnë kritikat nga partnerët ose nga eprorët. Do vihen në qendër të kritikave në çështjet ekonomike. Pas datës 16 e marrin veten.
Akrepi – Janë një nga shenjat që do bëjnë më shumë karrierë dhe famë, por do kenë edhe tension. Ky është muaji i karrierës për ta. Do ndjejnë turbulencë. Kujdes në jetën sociale, në miqësi sepse do keni kritika. Mos merrni rrugën e shkurtër se do ju nxjerrë më gjatë. Kujdes në vendimarrje në datat 6,7,8,9. Kujdes dhe në dashuri se do jetë komplikimi më i madh, transmeton xing.al.
Shigjetari – Do kritikohen shumë në fushën e karrierës dhe familjes. Do kenë sherre, debate, gjithë mesi i gushtit do jetë me tensione. Kanë përgjegjësi familjare, detyrime ekonomike. Deri në datën 16 të shikojnë pastaj pas datës 16 me hënën e re të veprojnë.
Bricjapi – Do japin kritika, do kapin mat, do i bëjnë të tjerët fajtorë. Shumë Bricjapë do ndikojnë në jetën e të tjerëve, në fushën ligjore, në fushën erotike. Do bëhen të lodhshëm duke kritikuar të tjerët.
Aquarius – The month begins with the full moon in your sign. It is the most beautiful full moon of the year. Aquarians will walk and progress, things will go well and they will talk about an important job. They will have an economic stagnation, but they will succeed.
Pisces - They will have many arguments, many words, rumors, criticism, changes, movements, like a broken clock. After August 5th to 12th the clock doesn't work either way so don't panic. At the end of August, they will be freed and will receive economic satisfaction./xing.al